MPG Bulky Goods Retail Trust
Main assets: Mildura Homemaker Centre and Chirnside Homemaker Centre
Status: Closed
Year started: 2005
Original value: $48.8 million
Minimum investment: $10,000
A diversified commercial property investment In the rapidly growing bulky goods retail sector.
Attractive regular returns
Forecast initial yield of 8.5% pa* to be paid quarterly from the date of practical completion of all the properties.
Significant tax advantages
As all facilities are new developments, depreciation and building allowances allow a high proportion of this income to be tax advantaged.
Mixture of well known national tenants
For those areas already pre-leased, the Developer has secured Agreements to Lease with well credentialed national retailers that include: Nick Scali Furniture, Fantastic Furniture, Repco, Sydney's Furniture and Bedding, Furniture Galore and Bev Marks Bedding amongst others.
Limited recourse and fixed loans
A significant portion (approximately 83%) of bank borrowings will be fixed for the first five years with recourse limited to the assets and income of the Trust. The Responsible Entity will look to enter into suitable interest rate strategies for the remaining debt to guard against future interest rate rises.
Suits all investors
The minimum investment is $10,000 with no entry fees.
Defined exit strategy
Anticipated seven year fixed-term investment.
Underwriting to ensure that the Trust proceeds
The Offer is fully underwritten.
Access to commercial property
Previously out of reach of the ordinary investor.
Capital gain potential
Opportunity for capital gain over the term of the Trust.
Property management handled for you
Our experienced team handle all tenancy issues.
*Forecasts are estimates only and are not guaranteed to occur. Please refer to the Information Memorandum for details relating to forecasts.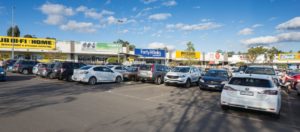 Status : Closed
Minimum investment 
$10,000 with upward multiples of $5,000
Dividend reinvestment plan
Yes
Investment Term
Defined exit strategy at year 7
Liquidity
The Constitution allows Unit holders to withdraw in limited circumstances. An investment in the Trust is to be considered illiquid.
Commencement date
May 2005
Distributions
8 cents per unit for the year ending 30 June 2016
Distribution frequency
Quarterly
Gearing
61.20%
Tax deferral
63.8%
Property value
$50.10 million
Net Tangible Assets
$0.98 as at 30 June 2016
Weighted average lease expiry
3.91 years
Occupancy
Mildura Homemaker Centre 78%
Chirnside Homemaker Centre 100%
MPG Bulky Goods Retail Trust – Annual Report 2016